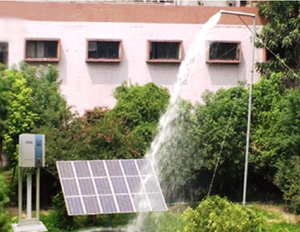 Photovoltaic pumping system is Opto-Eiectro-Mechanical integration System using power of solar. Through the maximum power point tracking and conversion control device drivers DC, permanent magnet, brushless, sensor less, Plastic dual-rotor motor or high-performance high-speed asynchronous motor or switched reluctance motor driven high efficiency pump shall pump water for irrigation or human use from underground.
Commonly known as solar water pumps has been increasingly recognized the most attractive means of water supply in the sun-rich areas of world, especially in the remote areas where lack of electricity is there using solar energy. With direct ONLINE system Pumps works as sunrise and stops at sunset automatic. There is no need to looking after and safeguard the working. It is an ideal green energy high-tech products with economic, reliability and environmental benefits.
The PV water pumping system consists of a motor, a pump, a controller, a solar array and some accessories as shown in the picture. According to userís needs it can also be operated in cloudy days or even in the night by means of adding batteries and replacing a controller.
The PV water pumps are fitted to 4 inches (100 mm) diameter shallow or deep well. It can also be used in river, lake or pond. All the system components are made by environment friendly materials and oil-less bearing. It is absolutely protected from water source polluting.